The Fashionably Geek Challenge is posted on
Candy Shoppe Designs
!
Here is the layout I did.
We had to use a black background, white title, plaid and an apple. My apple is on the cover of the Twilight book. I had to do a layout about these books. I started reading the Twilight book this Summer and was completely hooked! I actually read it to prove that you don't get hooked...well, that didn't happen. I had the next 2 books on reserve a the library but went and bought them because I couldnt' wait that long until it was my turn. LOL. Would you believe I am reading Breaking Dawn right now and have not finished it!? I have had it for about 2 months, too. I think I don't want my Twilight series to end. Anywho, here is my layout and some close ups. I wanted to use a lot of luxurious items on my layout to replicate the lifestyle of the vampires in the book...pearls, bling and velvet.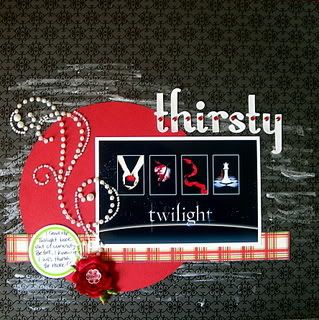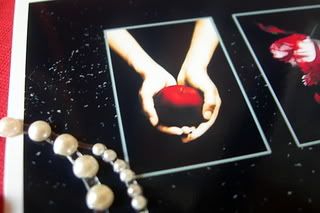 Fashionably Geek Challenge
Due Date: Midnight (est) Monday, October 10, 2009
Oh! You didn't know that "Geek" was the new "Black?" Well, now you know! Let's rock this Challenge in the name of all geeks!
Rules are simple.....
-The base of your Paper Creation should be BLACK. It doesn't have to be all black or even plain black, but black. With that said, you don't have to create a layout. It can be any kind of Paper Creation (a layout, a card, a mini album, an altered item, etc.).
-The title/journaling on your Paper Creation (should you choose to add one) should be WHITE.
-You must include a PLAID, CHECKERED or ARGYLE PRINT and
-You must include an APPLE. It doesn't matter how many.
Already created a Paper Creation that fits into these rules? Awesome! Go ahead and enter it into the Challenge! They don't need to be new.
We are doing away with the POINT SYSTEM and instead strictly going by the voting from the Lollipop Girls from now on. So, do your best job and Good Luck! The Winner will be announced on 14 October.
Emily Nelson, Owner and Designer of E.A.D. Designs is our Fashionably Geek Challenge Sponsor. E.A.D. Designs is a family owned and operated business. Emily Nelson started E.A.D. Designs in 2002 and in a few short years it has grown into one of the largest retailers/wholesalers for Vinyl Lettering and Wall Art. With a passion for Crafts & Design, Emily was able to stay at the top of her game with the newest and hottest trends and this year she launched a Scrapbooking Vinyl Rub-On Line.
She has donated a sample of some of her Vinyl Rub-On Sets (Family Words, Time Well Spent, Vintage and What a Hoot) and they will go to 1 LUCKY Sweetheart of C.S.D. after the Challenge is over. The Vinyl is acid-free so they are perfect for your Scrapbooking Projects and the great thing about them is that they won't rub off!