Things have been quite busy lately. I have been fortunate to be in the same classroom subbing for the past 2 weeks. Such a wonderful group of Kindergarteners! Last week was my monthly crop and I finished a couple layouts using my
Scrapbook Heaven
kit. As soon as the reveal is announced, I can post pics. Last weekend we also went to a sledding party at church. Here is a pic of Natalie at the top of the hill. It was a very big hill that her and I went down..but becasue the snow is fluffy the sled moved at a perfect rate.
This pic is in front of our Target. Natalie always wants me to take a picture of her in this circle. I was so glad my Mom joined in the picutre, too.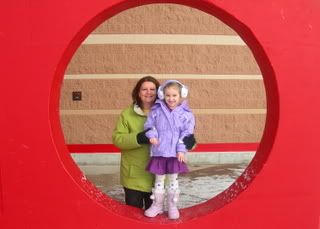 And, this is just a cute one of Natalie with her Hello Kitty earmuffs.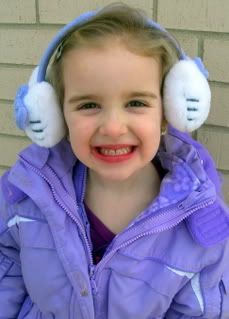 This weekend is a perfect time for crops!
Simply Obsessed
is having a Super Bowl crop filled with games and challenges.
Mon Ame Memories
is also hosting a crop this weekend. Not only that, but there is a design team call going on.
I do have some exciting scrappy news...can't give all the details yet but I'll give you a hint...it's a GDT opportunity.