Natalie's Preschool Christmas program was held on Thursday. I would say if it would have been on Friday it would have been rescheduled again after all the snow we got on Friday! The program started off with a great slideshow of the infants and 1 year old. The two year olds started the singing part of the program...very entertaining! They were so darn cute and funny. The 3 years olds were just as entertaining. Natalie's 4 year old class did a great job singing and doing their body movements. Natalie decided to hang out with her friends at the program which was kinda neat and different. I am so use to sitting by her all the time that it was unusual to have her sitting with her friends. Unusual, yet happy at the same time. I am so glad she is developing friendships and has the confidence to go on her own like that. Natalie and her friend Hailey were haning out a lot...along with Meredith and Troy. Such a cute bunch of kids. The program ended with a very nice skit about the journey Mary and Joseph made and then the arrival of baby Jesus.
Here is a pic of Natalie before the program. Gotta love the big cheesy smile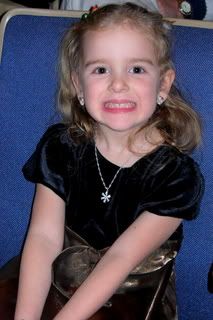 This is Natalie and her absolute favorite teacher, Miss Sarah. Natalie is so excited when it is a Miss Sarah day. I love that Natalie loves Miss Sarah so much...it tells me that Sarah is a great person and I am glad she is teaching Natalie!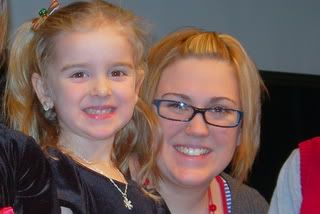 Car update....
I got the call on Tuesday that the damage to my car was $1,500! It's still being repaired, the estimated completion date in Monday. Bummer! I really don't want to give back this rental...it's a brand new Chevy Impala with 890 miles on it. Well, I have done a lot of scrapping today and am off to do some more!