It seems I have been busy lately...a good busy. Last Tuesday was our class field trip to our state Capitol. I had to bring Natalie to a DR appt for another ear infection on Wednesday, and Thursday was a Kindergarten meeting for parents. This weekend we had loads of fun. I took Natalie to the free Spring matinee at Kalamazoo 10 to see Hotel For Dogs. After the movie, we headed out to my Aunt Kathy's farm and checked out all the animals. Such a great time of year because of all the new babies. There were 1 week old kittens and 3 week old goats. The goats are so friendly that we can pick them up and snuggle with them just like a puppy. Natalie loved every second of it! She fell in love with the kittens (of course) and the goat. She LOVED that goat. It has been bottle fed since birth since the mother rejected it so this goat tends to think it's more human that goat. It was just SO cute to see Natalie and this goat.
These were taken on our Saturday visit.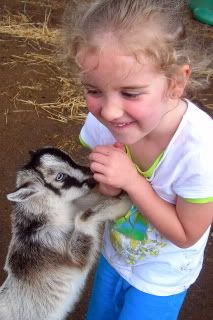 These were taken today...the brown goat was Natalie's "buddy"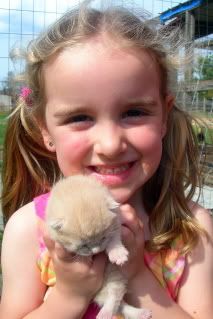 Something great about being a kid is appreciating everything in nature. As an adult, dandelions in my yard are a nuisance. But to Natalie, they are free flowers for Mom. Natalie was so excited to see all the flowers that appeared in Mommy's yard this weekend. She must have picked me a hundred dandelions this weekend. They don't last long but it's the thought that counts!