I hope you all have a wonderful Easter! We've had a great couple weeks getting ready for Easter, coloring eggs and hunting for eggs at a couple different hunts. yesterday, Natalie and I colored eggs. The only part of the coloring that I did was add the dye tablet to some water/vinegar. Natalie was so proud and happy to carefully add an egg to each color. She did such an outstanding job! Oh, and my Grandma gave Natalie some bunny ears that Natalie insisted on wearing all day. I thought she looked just adorable in it, especially with the egg coloring pictures.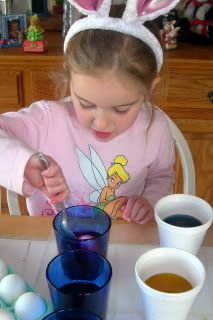 The colors were so vibrant on these eggs. I just loved this lime green!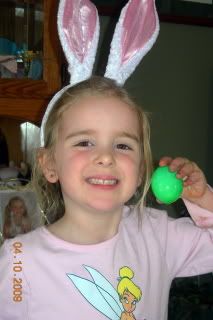 And here she is with them all
And a little piece of Easter scrappiness...I made this layout for a
Treasured Scrapbooking
challenge. The challenge was to use a rainbow on the layout. I also used an
Inspired Blueprints
sketch for this layout.