I took Natalie bowling for her first time yesterday. I was shocked at how busy the place was! We had to wait about 25 minutes to get a lane, but it was worth every single second. I didn't think that would be very nice of me to take Natalie to the bowling alley and then leave because it was busy. She was SO excited to bowl! First of all, I just have to say that Airway Lanes has really done an awesome remodel. The whole exterior and interior of the building is awesome now! There is also a lot of other cool things to do outside and inside now...miniature golf, laser tage, Quiznos, etc....so, we'll be heading back to do some of the other things. Natalie did a great job "rolling" the ball down the lane. She scored a 55! I am thinking I should have put the bumpers up for myself since I only got a 77...BUT I did let Natalie bowl in my place but only 3 times. Basically, I just stink at bowling! LOL I usually only get a 120 anyhow.
It's so hard to get good pics indoors but I think you get the idea. Here is Natalie with her blue bowling ball....she alternated between the 5lb blue ball and 8 lb pink ball.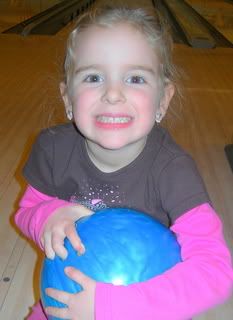 I love this girly looking roll...I can see her wrists and fingers flexed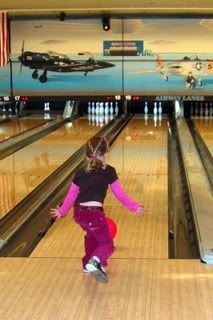 She would patiently watch the ball go all the way down and hit the pins. You can see in this pic that I cut quite a bit of her hair. I can't get over how much thicker and healthier it feels.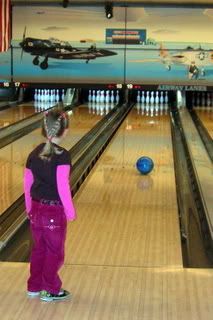 and this was the typical cheer afterwards! Yes, she does have hands! She just hates having the ends rolled because it'll leave wrinkles.