Usually I hate snow, but for some reason I have enjoyed it so far. It's only November so I guess I should see how I feel in February. Two weeks ago it was sunny and 70 degress. A week ago Natalie was playing in a big pile of leaves and needed a light jacket. It was about 50 then. Here are some pics. She had a blast!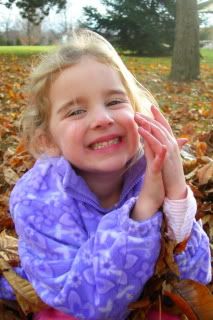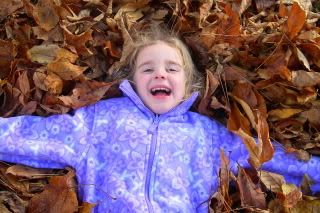 And this is what she was playing in on Monday!
Gotta love the first snow of the season! I had a feeling my Tuesday morning commute would be interesting. There were two cars in the ditch in front of my house Monday night and the snow was expected to continue. Eveyone forgets how to drive and traffic was backed up for miles in every direction. It took me 45 minutes to get to school on Tuesday when it's usually a 7 minute drive. Apparently a semi got stuck on the main overpass which meant that everyone headed from the one side of town to the other was stuck waiting in traffic. It doesn't help when their is a slight incline to get up and over the bridge. That means lots of spinning tires and very few cars getting through the light. I ended up driving down some back roads after 15 minutes of waiting, but I still couldn't go faster than 20-25mph. I can honesly say that going down French road was one of the scariest driving experiences I have ever encountered. It was a sheet of ice. We are getting dumped on again today.
I finally finished my cookine sheet advent calendar. Between painting the living room, cleaning the house from drywall dust, and reorganizing my scrap room I haven't been scrapping as much. But, I did get this little thing done and I love it. I bought my cookie sheet at the dollar store and used up all sorts of misc. chipboard pieces and numbers. Got to use up some of that Figgy Pudding paper I bought last year, too.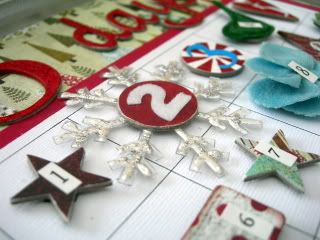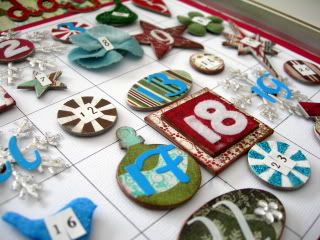 And, today is my brother's 30th Birthday! Welcome to the 30 something club, Joe!!