Natalie and I really celebrated the big LOVE day yesterday. Her preschool party was yesterday and Jack wanted Natalie to stay with him last night...so we did our heart pancake breakfast yesterday morning, also. Which reminds me, what is the secret to getting those pancakes to stay in a heart shape? I think I had too much batter becausu I would wait to let the bottom get firm, then lifted the heart cookie cutter....but the batter would run over. Anywho, she still had heart shaped eggs and bacon...her favorites.
So, I got Natalie dressed in her adorable Valentine's day outfit and brought her to preschool for her party. Here she is...if you've ever noticed, Natalie almost ALWAYS has a a skirt on. We have compromised and she came up with the idea to alternate between pants and skirts. Not every pant day turns into a pant day, but I am just happy she's wearing some of her cute pants more often. With it being so cold, she must wear leggings with her skirts, which she had a dozen different patterns. I love that she is so girly like this!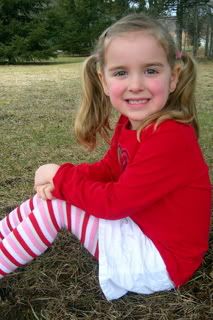 Here are the treats we passed out to her preschool friends. I didn't want to do a store bought card and sucker, so we made these marshmallows (Thanks
Deanna
for posting on your blog) I cut tags from my cricut and stole another idea from
AbbieT
(Another thank you) I put a tick tac toe board on each tag showing hearts winning...the saying said, "Love always wins" Love Natalie.
Natalie also cut out a heart shape for her BFF Adam. I've noticed a lot of other boys are wanting to give her hugs when she leaves, too...but she kinda resists them, but Adam ALWAYS gets a big hug. Way to be committed, girl! Just kidding! LOL