Well, today was a first for Natalie and ME. We went and picked blueberries! I found this cute new place and decided to go there. It was only $1 a pound to pick the berries and we got 2.5 pounds. We had a really good time. Natalie LOVES blueberries so she was already digging into them on the way home. This place is opening a bakery some time next week so it would be nice to go back and check out their baked goods and get some more blueberries. Here are some pics I took while we were out there.
She just couldn't resist!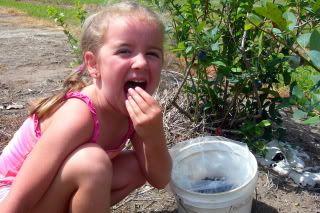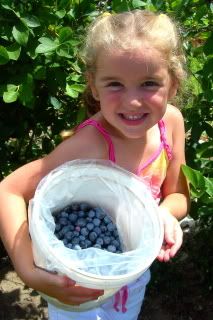 I had an urge to do some scrapping this evening...well, I saw a challenge on
Label Tulip
for their birthday party which immediately made me think of 2 photos from Natalie's bday.....which would work perfectly for the sketch challenge this week at
The Shaker Box
(sketch is provided by Got Sketch #78) I love it when things start turning in my head like that! SOOOOO......here it is...I have rediscovered my love for stitching on a layout.