I planned on doing a blog post yesterday but our area lost internet connection!
It was already a week ago today that Natalie had her second set of tubes put in and tonsils taken out. The first few days were rough! I think the recovery for this has been far worse than when she broke her arm! She was quite grumpy while taking the Tylenol with codeine. This is the 3rd day of having a semi-happy Natalie back! I brought her to the park yesterday and we're heading out for frozen yogurt this afternoon. Her request for today is chocolate cupcakes WITHOUT frosting! Cupcakes are in the oven as I type and she's licking the bowl of batter.
I wanted to share a couple pictures from when we went to Olive Garden with my Mom and Grandma. The second we sat down in the booth, Natalie immediately saw the dessert menu and this dessert was all she could think about. It was VERY delicious!!
At the beginning of summer Natalie told me she wanted to go camping. I have never been out camping in a tent besides the backyard. I've been in a motor home or travel trailer...but never a tent. So, I thought about looking for a tent when I came across this one at a garage sale for $5! It's 10x14 and 6 feet high. Natalie has LOVED "camping" in the backyard!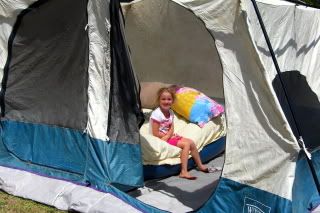 The other day we bopped in at Family Dollar to get TP and bleach. While checking out we saw these ginormous lollipops! Natalie wanted one while we were in Shipshewana but I refused to pay $4 for it...so this one was only a dollar!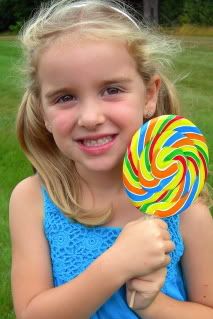 And finally, I was awarded this blog award from
Pinky(Cristal)
. I am going to try being better about posting these blog awards..I always mean to and get sidetracked and forget.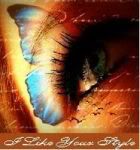 This award is called the "Eye Like Your Style" from Janis at
Pause, Dream, Enjoy.
This beautiful award was created by her daughter.
The rules are easy....
1) by accepting this award you recognize that the giver "likes your style."
2)you agree to proudly display this award on your blog and post a link back to the giver.
3)you will share this award with those whose styles you like...because there are so many wonderful blogs out there!
I chose
1.
Deanna M
2.
Jennifer Y
3.
Michelle
4.
Helen
(Love her tutorials!!)
5.
Shannan
That's all for now..