Well, we have been having some fun lately. Last Saturday we made our Rudolph and Santa cookies. I should have done one on Saturday and the other on Sunday becasue by the time we finished the Rudolph cookies and started Santa, Natalie had enough. But, she did keep telling me that hse only wanted to make Rudolph. She did help make 1/2 a dozen or so of the Santa cookies. I frosted the cookes and then Natalie put on the antlers for Rudolph, eyes and nose for both, and Santa's beard. It was so fun to make them!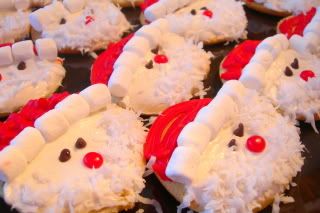 On Wedensday I didn't have to sub so Natalie asked to go sledding. I thought that was such a good idea. We headed over to my Mom and Dad's. The snow was perfect for sledding. It wasn't deep or thick so it was easy to get the sled moving down the hill. Natalie was laughing and having so much fun!
Getting ready to go!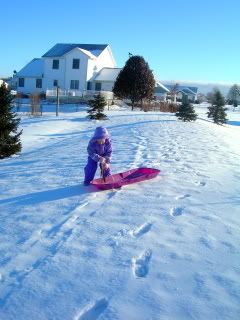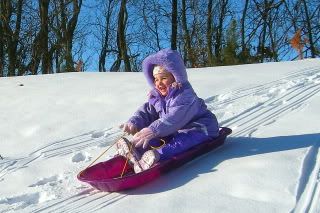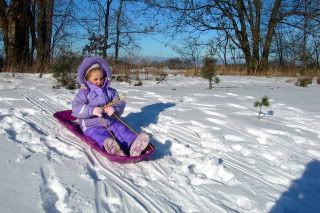 While we were sledding, we saw deer tracks all over their yard...you can see the tracks around this tree where the deer were trying to eat the berries. Then the tracks head off to and around back to the open field.
I have also excited to announce that I have made the Creative Scrappers DT. I really like this site and they have so much inspiration and awesome sketches.