We had a wonderful Christmas! We went to Christmas Eve Mass...this was the busiest I have ever seen in my life. We were actually sitting in the side hallway watching Mass on the TV. We hung out at my parents' house for a few before we came home and crashed in bed at about 8:30! We opened gifts up around 6am. I couldn't wait another second for Natalie to open everythng! Natalie is so excited about all of her gifts! The ONE thing she wanted was her Little Mommy Gotta Go Doll. Santa was kind enough to get it for her. This doll has so many phrases and of course the best part....she goes potty in the toilet. But the good part for me is that there is no water and no mess. Natalie and I were laughing so hard today while playing with this doll...she says the funniest things.
My Mom got Natalie one a doll and horse from Target...kinda reminds me of American Girl dolls.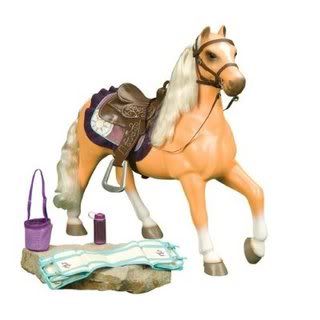 We also have a Fur real monkey in the house now, too.
My brother got Natalie her own camera.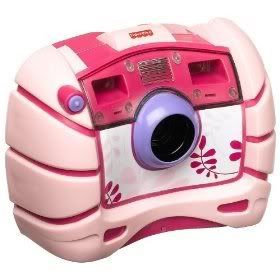 I was so glad when I heard this because she loves to use mine. Well, now I know who Natalie feels about me always having my camera in her face. She has been taking pictures of me nonstop. She is having a BLAST with it though...that's the important thing! So, these are just a few of Natalie new things and hopefully she'll be enjoying it all for quite a while.
My parents absolutley LOVED the snapfish 81/2x11 photo album I made for them. It was filled with pictures of when they took Natalie to Mackinaw Island in August. I recieved some beautiful clothes and jewelry just to mention a few things. Honestly, the best part was watching Natalie's excitement and also seeing how happy the album made my parents. You can't put a price tag on happiness! Hope everyone had a wonderful Christmas!!!