Natalie has been pretty much back to normal after having her surgery two weeks ago. Yesterday was her 2 week follow up and the DR said everything looks good. The first thing Natalie wanted to know was if she could eat crunchy food...he gave her the go ahead on that, too! She was thrilled. I tool her to Build A Bear to celebrate. She picked out the Hannah Montana bear with matching outfit. Natalie's not a fan of the show but she loves the music. I love this picture of her registering her bear on the computer. I love how she has her legs crossed. LOL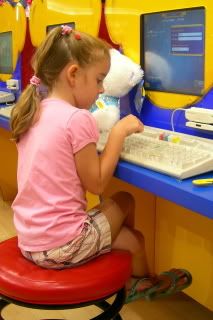 And here she is totally hamming it up for the camera with her new bear.
We left the mall and met my Dad at Taco Bell for lunch. Natalie has wanted a volcano taco since the day after her surgery. She took one bite and opted for the regular taco in our volcano box. She did come home and ate the volcano taco later.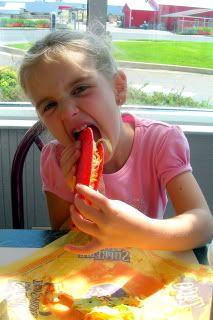 We came home and made these adorable school bus cookies
and then went to the elementary and enjoyed some time on the playground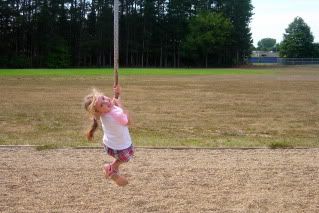 Today was the big blueberry pie eating contest at the Blueberry Festival in South Haven. Natalie has been so excited for this. But, when time came to go up and do it she froze and got scared. I can see how it was so overwhelming. First of all, people were packed like sardines at the pie eating site. The children entered from one end and exited on the other. I had THE HARDEST time walking from where Natalie entered to over where she was going to eat her pie. I know I was nervous of losing her and I know she probably felt the same way. She only took one bite of her pie. Later she told me she didn't like it, but also admitted she was scared. Natalie is not one to roam off and lose touch of where I am or her Dad, so being in the position she was must have been overwhelming for her.
Here she is taking her ONE bite..she told me later she didn't like it (but I am not suppose to tell anyone....always so concerned about hurting someones feelings)
AFterward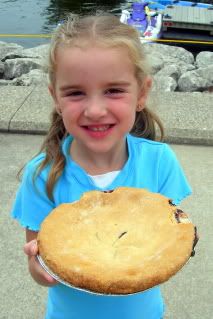 Me and my girl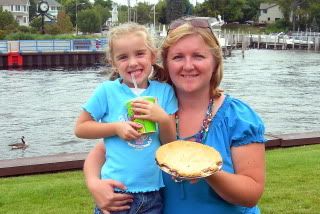 And finally....we got a little bit of rain today! We are in dire need of some rain. Natalie and I each have this umbrella and we just love it!
Hope you have a great weekend!