Last night I stayed up pretty late doing some scrapbooking. Natalie went with her Dad last night so I figured I could sleep in this morning if I wanted to. In the matter of fact, it seems that whenever I stay up late, I get up early. Well, I was up early this morning and it was because of this guy....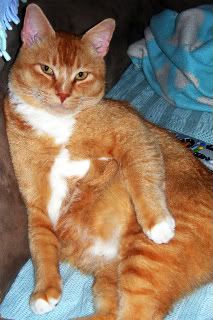 I feel compelled to blog about this cat. He is an indoor/outdoor cat. Natalie and Leo share the same exact birthday...5-22-04. This cat is beyond affectionate and let's Natalie do anything to him. She carries him all over the place and sat on him when she was a baby. He acted like Natalie's mother when she was a baby. The second he'd hear her wake up or cry he'd go running to her. One time he woke up out of a dead sleep, moseyed over to her room with his eyes half open...just like a real tired Mom does. LOL He does his business outdoors and lounges on the deck. He's like a loyal lab, when we are in the yard he follows us everywhere and he greets people at the front door. But, he is also a brat cat! During the day when he wants to go out it's obvious, he just meows. If I don't get the clue or purposely ignore him, he'll get in my face or start terrorizing the dogs by slapping them on their behind. At night, he knocks on my window to go out. So, I get up and let him out. When he wants in, he does the same thing, knocks on my window. The past few nights he's been wanting in and out more than usual, he goes in spurts with this but the timing is like clockwork. Sometimes I trick him and act like I'm getting up to let him out only so he'll leave my room, then I close the door and go back to bed. Well, this morning he decided to knock on the door and meow. Am I a crazy cat lady? NO! We never had a cat growing up at home, my parents don't like them....but they LOVE Leo. That tells you what a cool cat he is!
I was actually up late last night doing a scrapbook layout about Leo.
Simply Obsessed
is having a crop right now and this was for one of the challenges. I used a July sketch from
So Sketchy!
I love Ally's sketches!