Yay! I can finally announce that I made the design team for Candy Shoppe Designs!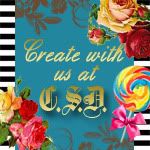 border="0"/>
click on the icon to check out this cool blog and to see who the other Lollipop girls are!
Candy Shoppe Designs is a cool challenge blog with challenges (of course) and prizes. Sign up and become a follower (Sweetheart)! Our first challenge was to create and All about me layout. I rarely do these but I am glad I did. Since my fun alternate name for the blog is Orange Passion, my layout was suppose to reflect that. I used orange of course, but I also used blue which is on the opposite side of the color wheel as orange. I also jotted down things I am "passionate" about.
Me, Myself and I
Here is a close up of the butterfly. I cut two different sized butterflies from the Jillibean Soup papers. I adhered one flat to the paper and stapled the smaller one on top of it and folded it to give dimension. I then slid the two pins under the staple for the antennae.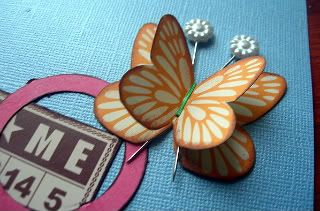 The goodies I used were
Bazill Cardstock
Patterend paper: Sassafras Lass and Jillibean Soup
Alpahs: American Crafts
Bingo Card: Jenni Bowlin
I am also sooo stoked that today is the official day that I am a Guest Design team member for
Treasured Scrapbooking
!! First of all, I got the kit in lickity split time. That always impresses me! Secondly, it is JAM packed with patterned papers AND cardstock! BONUS! For my reveal today I had to have one layout and a sketch completed. I have so much more to work with but this is what I have done for today's reveal!!
And here is my sketch