This was Natalie's first full week of school. I am so proud of her because on Thursday and Friday she walked to her bus all by herself at dismissal. Go figure, her bus is one of the very last ones which is at the opposite end of both schools. She was so proud so I treated her to a Bug Juice. :) I was able to sub 2 1/2 days already and was so excited to see her at school when she came in at the afternoon. Gosh, if feels so good to be back in the classroom. Picture Day was on Wednesday. Natalie looked so cute, but of course she had a monster of a mosquito bite right between her eyes. The mosquitoes have been really bad lately and she really swelled up from them. When she was 2 she had one right by her eye which swelled to the point her eye swelled shut. It was horrible. I have seen so many kids with tons of bites and tennis ball sized swells. I wouldn't mind one good freeze at night to kill the mosquitoes off, and then warm right back up again.
On Monday I got a call from my SIL and she told me that they knew of someone giving away a bunny. Jenny and Brad didn't want it because they just got a bunny for Katie last month. Apparently my BIL met someone in the pet store who was looking for a home for their bunny with all it's home goodies for FREE. If they couldn't find a home they were going to shoot it!! EEEEK!!! So my BIL called the poeple and even went an d picked it up for us. Natalie's been wanting one for quite some time and I thought it would be a good little pet for her. He's such a little cutie and really friendly. We put a litter box in his cage and he already does his business in that.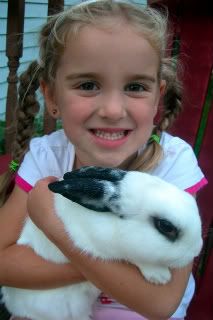 We had our second soccer game today! Boy, did my girls do AWESOME!! We won by a score of 9+ to 0. I wasn't keeping score but my Dad quit counting at 9. I am pretty proud because I feel like I taught them some things at practice and they used those skills at the game today. Here is a picture of Natalie and I after our game last week.
And Natalie. I love these uniforms because they are reversible. When we are the home team we play with the green side, the away team we wear the silver side. All the kids have the same uniform which makes for easy uniform orders when adding a new player to the team at the last second.
And I already scrapped a layout about it. I stitched the black lines on the soccer ball and the white movement of the ball.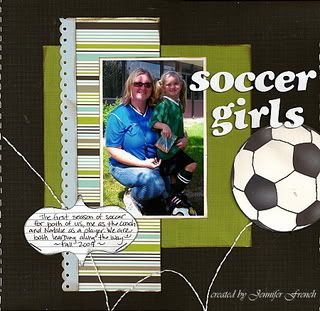 And here are 2 more layouts I have done using my Treasured Scrapbooking Kit for my Guest Design Team spot. I have SO much more stuff left that I could scrap a ton more.
Natalie's friends do have faces, **insert giggle**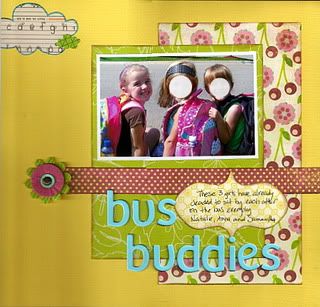 Oh, and you may have noticed that I need to approve comments now. So sad that I must do this, but I actually had a spam comment. Ugh!
Guess that's all for now, have a great rest of your weekend!