School is back in session! Yesterday was the first day of school. All of the kids went back except Kindergartners. We had a half our time block in which we went to Natalie's room, gathered some information, found her locker and most importantly...got her name tag with school bus information. This is the 3rd time we've been to school in preparation for the school year, and let me just say that I think it's a GREAT idea! Natalie was really happy to see another girl from Kiddie U in her room, and Meaghan seemed just as excited.
Here she is entering the school
Here we are together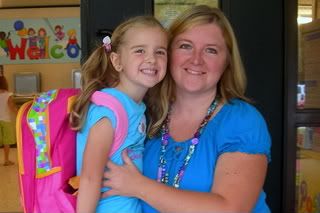 Here she is in front of the office entrance of the school. It seems like yesterday I was entering these doors every single day as an elementary student. Now I will enter them as a Mom AND guest teacher.
Today was the official day Kindergartners rode the bus to school. Even though Natalie's been excited, I was concerned she'd really cry. We got down to the Kiddie U bus stop about 45 minutes early. We took some photos and then I saw all the kids that were in preschool come out of the building. It's so hard to believe that these kids are in Kindergarten. All of the kids who are catching the bus at the Kiddie U bus stop joined the line. This one little boy was crying so hard and holding his Dad's leg. I was about losing it then. I thought Natalie might get upset but she didn't. She did great up until the bus pulled up. She started to get nervous and grabbed my pants and shed a few tears. The little girl in front of her also started to cry. Both girls got on the bus with the help of Johanna (the owner of Kiddie U--she is AWESOME) Next thing I know, Natalie's waving out the window at me with all smiles. I drove to school to watch her get off the bus. Wasn't sure if this was a good idea but I did it anyway. The principal escorts each child off the bus and hands them over to another school adult. They then guide the children to their teacher's line. Each child had a color coordinated name tag that matched their teacher's sign. Natalie got off the bus full of smiles. She told me, "I knew I'd see you down here!" I took a couple more pics and then left. She did GREAT!! I saw a friend who has twin boys entering Kindergarten also. We both left, teary eyed and reflecting on the past 5 years....they truly do go by way too fast!
Here are some pics of today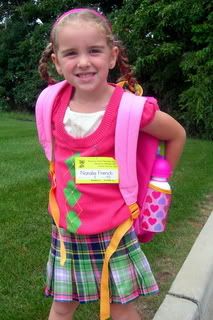 Waiting for the bus
The iCarly backpack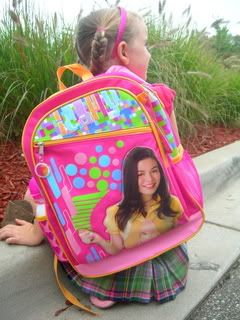 Me and my girl
Her bus arriving at school....principal is on greeting the children before escorting them off. He is an AMAZING principal!!
Natalie once she got off the bus...all smiles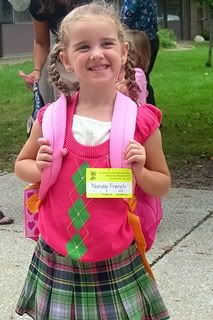 So, our journey has begun. I can't believe it! I am thrilled that today went well and can't wait to hear how her day went. One more hour until her bus arrives!