I am very proud to say that I am the Guest Designer for the month of October at
Coordinates Collections
. I received a kit packed full of Halloween papers and goodies.
Here is a pic...a complete photo will be on the site soon.
So far, I have only created a Haunted House. Here is a pic of it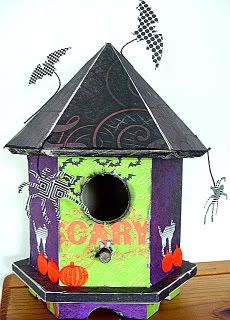 I started off roughly meaursing the sides of the house and trimmed paper to fit. I then used Modge Podge to adhere it. I did this same procedure again with the roof, ledge and underside of the ledge. Once I adhered all of the paper with some Modge Podge I use a sanding tool and went along the edges to distess the edges. What Haunted House is clean on the edges? I also used some Modge Podge to adhere the pumpkin ribbon and cat die cuts.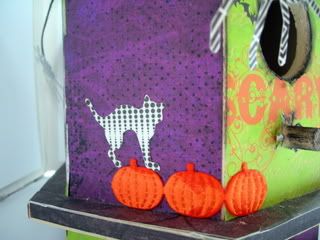 I then adhered the spider die cuts to some black twine I had in my stash and adhered them to the roof so they dangled.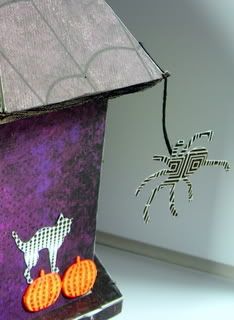 Finally, I used Modge Podge (again!) and applied it to the hemp twine and waited for it to dry. I did this to make the hemp twine stiffer so that when I adhered the bats they would look as though they were flying in the sky.