I am so excited! I submitted my application to be a Lollipop Girl at
Candy Shoppe Design
. It's an upcoming new blog that will host challenges and inspire all of us scrapbookers. Lynetter felt that the challenge I had submitted would fit perfectly as a pre-opening challenge! I am so excited and honored she asked. Go to the
blog
and check it out! Sign up to be a follower and post a comment to this
post
and let her know I (Jennifer French) sent ya!
Here
is the first challenge!
Here is the pre-opening challenge
You are to take this sketch provided by Jennifer and base your creation from it. You may take away from it, add to it, flip it, the choice is yours. Just as long as it's obvious that you got your inspiration from it. You are allowed to make ANY paper creation of your choosing whether it be a scrapbook layout, card, altered item, etc. The choice is yours!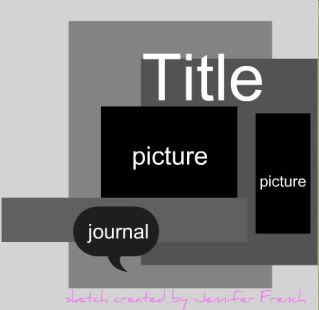 2. You must include an item that is "something old" (6 months or older), "something new", "something borrowed" (the sketch, which is provided), and "something blue."
3. You must share the ingredients of your sweet layout AND a short description. Here's JUST an example of how this can be done:
Cardstock Paper: Bazzill Basics
Patterned Paper: Cosmo Cricket, Jenni Bowlin
Embellishments: Flowers-Prima Marketing, Chipboard-Tim Holtz, Brads-Making Memories
Pen: Signo Uni-ball
Other: Unknown
Short Description-My son, Isaiah, is always the center of attention. We can go to a playground and all the parents have their eyes on him. He keeps me on my toes with all the dangerous and daring stunts he does or "tricks" as he calls them.
*When posting your layout on your blog/gallery you should include a working link to C.S.D.
Here's some Eye Candy for you....Jennifer created this scrapbook layout based on the rules for this Challenge and this is what she came up with. (Less the Ingredients and short Description).
Here is the layout that fits this challenge
More scrappy news.....here are 2 layouts I have created with the June
Mon Ame Memories
kit...I love the Cosmo Cricket papers in this kit. The are so yummy and summery! I have more left in the kit so check back for more! I also did these layouts for the Schools Out for Summer crop at
Treasured Scrapbooking.
for this first one I used sketch 24 by
52 sketches 52 weeks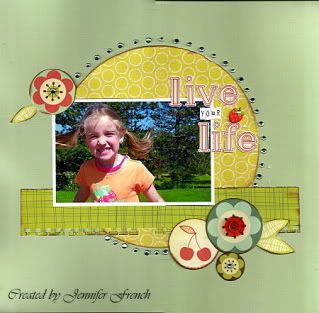 and this one is based upon a sketch created by Aymee Gandy
And finally, I did this layout using the
Becky Fleck sketch posted on her challenge blog