This morning my Dad called and invited Natalie and me to go to Shipshewana with him and my Mom. If you're not familiar with Shipshewana, it's an Amish area with lots of great food and shops. Cars share the roads with horses and buggies. When we arrived it was lunch time so we at at The Blue Gate. Natalie discovered how much she loves Apple Butter while we were there! She even put it on her cheeseburger! Anywho, I found this quote on a wall hanging and just love it!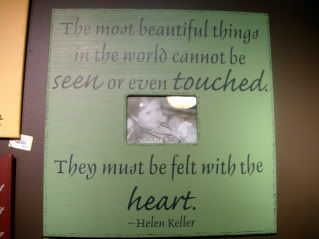 After The Blue Gate we went through the local shops, bought some pretzels and candy.
While we were in the Mearcantile building Natalie rode the carousel...it was really neat because it looked like a vintage carousel in amazing condition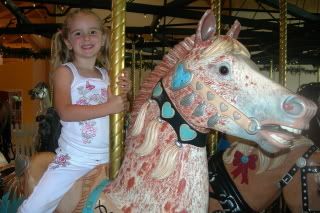 We took a carriage tour around town. Natalie chose this carriage and horse to be our guide...the horses name is Eva. Of course Natalie pointed out that Eva is just like Eva on WallE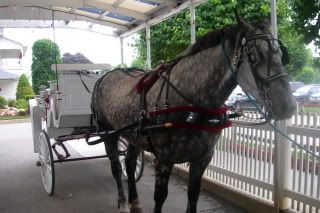 Natalie absolutely LOVED the ride. Her face was beaming the entire time. It was really nice to just sit back and enjoy the ride. This is Natalie with my Dad before the tour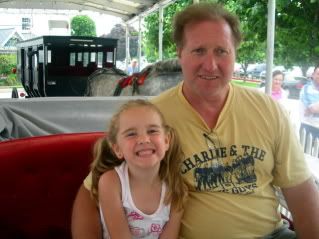 Natalie's loved the ride!
A nice girl offered to take a family photo of all of us in front of The Blue Gate Restaurant.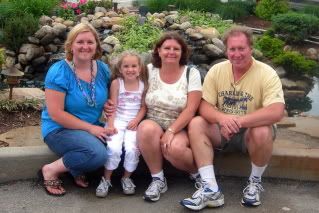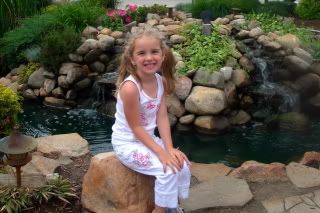 I had Dad take a pic of me and Natalie, also. I don't get enough photos taken WITH her.
Finally, on the way home we stopped at the Cheese Factory. This place makes the cheese right at the facility and you can see it being made. You can also taste little samples of all the cheese. I bought some vegetable cheese, muenster cheese, horseradish cheese and swiss cheese. I also picked up some apple butter and peanut butter spread. We were so lucky with our timing. When we arrived hardly anyone was in the Cheese Factory but as we were getting ready to check out FOUR charter buses arrived and people flooded the place.
The drive to and from Shipshewana is about an hour. Natalie was unbelievable on the way home. She was being so silly and could not stop laughing. I mean, was there some sort of Silly cheese at the Cheese Factory?! Maybe it's just my 5 year old girl, but the words poop, pee and fart make her laugh hysterically. She was being silly and kept saying these words. I told her if I heard her say poop, pee or fart one more time she was going to be in trouble. She said "Ok, what words can't I say?" So, I repeated myself....only to have her laughing hysterically....YES, I was tricked by a 5 year old! She just wanted to hear my say those words again!