Yesterday I received a nice reply to my blog. She indicated that she followed my blog and liked reading it. Her kind comments were quite touching. I also received a blog award from her. I like to know who is reading my blog so please say hello. :)
Ok, so I am sure I am last to the party, but I finally read Twilight. I told myself I was going to read more and I wanted to know what all the hype was all about. Honestly, I NEVER thought I would like the book and just figured everyone was saying it was good because of all the hype....well, now I know....and now I am dying to read New Moon! Looks like another week before it is returned to the library, too! Ugh!
Yesterday was Father's Day and it also happened to be my parents' 34th wedding anniversary. We all went to South Haven for Harborfest and really enjoyed the sunshine, booths and the beach. Here are some photos of the day
Natalie had her face painted and I thought it turned out darling! I see a layout very soon about these pics!
side view
Natalie tried the dunk tank. A local church was raising money and they had the dunk tank....3 throws for $1 and if you didn't hit the bull's eye with any of the 3 chances then you got to go up and hit it with your hand. Natalie hit the bull's eye with her ball but since it was a soft hit she went and touched it with her hand. She loved it!
This is my mom and Dad with Natalie on the pier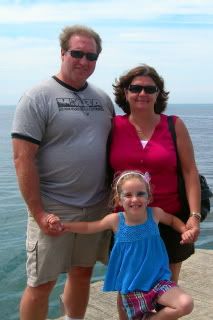 Natalie loved playing on the beach. We're gonna have to head out there soon and just bask in the sun and enjoy the water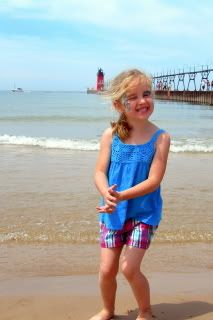 Finally, we finished the afternoon with some Ice Cream at Sherman's